The Sabetha Bluejays have ran wild on opponents this season to the tune of an 10-1 record and a bid to the Sectional round of the Class 3A playoffs after two playoff wins last week.
Bluejays offense is flying high with the rushing attack that is averaging 321.4 yards per game and has ran for 3,535 yards on the season with 54 touchdowns. Spear heading that rushing attack is a Bluejay quintet with senior, Wyatt Beyer along with juniors, Joe Gruber, Mason Engelken and Joel Hackney and sophomore, Gabe Garber. All five guys have 430+ yards rushing on the season and at least six rushing touchdowns each and have helped the Bluejays amass 390+ yards rushing in the last four contests.
Two main contributing factors in the success are a phenomenal and experienced line that has stayed intact most of the year. The other benefit is the unselfishness and depth of the Sabetha runningbacks that keep them fresh throughout each contest as they keep rotating in rested runners that opponents can't specifically game plan for and keep having waves of power and speed come at them quickly.
Leading the way is Gruber who has toted the ball 122 times this season and totaled 918 yards with 13 touchdowns going over 100 yards three times this season. Engelken who has the third most carries of the quintet has 762 yards on the year on 84 carries averaging 9.1 yards per game and has nine touchdowns. While Beyer has ran the rock 96 times for 553 yards on the season with nine scores and Garber has added 548 yards on 78 carries with 11 scores. Hackney has been strong too with 438 yards on 63 carries and six scores this season.
The Bluejays opened the 3A playoffs last week with a 56-14 win at Maur Hill-Mount Academy and ran for 393 yards as a team with seven rushing touchdowns. In the win Sabetha had four guys rush for 50+ yards led by Beyer who had his best game of the year rushing for 120 yards on 10 carries with two touchdowns.
Sabetha followed up the win over MH-MA with a 26-8 win over Perry Lecompton in the second round of the playoffs and the running game again was dominate as the team rushed for 442 yards on a State record 88 attempts. Four guys again had 50+ yards in the contest and the Bluejays were led by Gruber who had his best game of the year rushing for 181 yards with two touchdowns.
With the Sabetha Bluejay quintet at tailback they look to continue run past opponents continue in the 3A postseason as they gear up for a Sectional round matchup against Osage City at home on Friday, November 10th.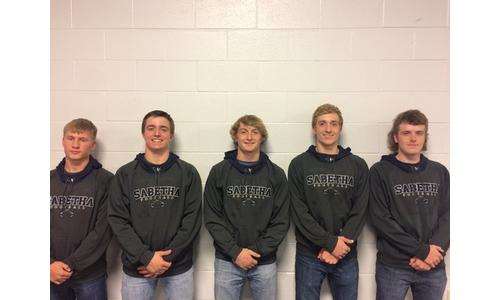 (Sabetha Bluejay runningbacks - Wyatt Beyer, Joe Gruber, Mason Engelken, Gabe Garber & Joel Hackney)